The Final Gift of Love
Posted on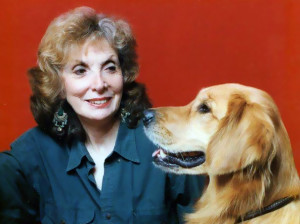 Her hair is golden with a reddish cast, a strawberry blonde. Mine is faded blonde, with invasive gray at the temples that requires coloring. Well it doesn't require anything, but I choose not to be gray. I choose not to be old as well, but of course it is happening anyway. And it is happening to Holly. Except for her jet black nose, outlined mouth, and dark almond shaped eyes shaded by golden lashes, her face is white up to and around the brows. Her crowning glory remains the honey gold floppy ears that match her coat and frame her beautiful face. I'm not sure who is aging faster. She is my companion, my working partner, the reason I get up in the morning, and the reason I return home at night. She is my Golden Retriever, Holly Go Lightly, named for the Audrey Hepburn character in Breakfast at Tiffany's.
Holly is the dog I wanted
She is the dog I wanted when I was seven years old and was denied anything four-footed in the house. Holly is the loss of all losses. She is more beloved than my mother when she died, than my father when he died. She is my life line. She will die before me, unless I die very soon.
When the surgeons removed the spleen that had ruptured from the weight of the cancer, they discovered two more cancers in her colon just in case the first one didn't kill her. Is that what they mean by over-kill? They cut her open on the last Thursday in February. They cut me open the same day. And I bled. And I bled. Malignancy: comes from the root mal, meaning 'bad'; malpractice, malnutrition, malformation, maligned, maladjusted, the bad kid in Harry Potter, Malfoy. Bad, bad, bad. When I leave any of my pets in the hospital, it is a bad omen. Sometimes I never see them again. I left without Holly. Very bad.
Holly taught me many things
I have struggled to make everything right for her. I did my research on Goldens; nowhere did I find splenetic tumor. I read all the books, went to the best breeders, did all the training, and gained all I could know about this very first dog in my life. I wanted a healthy dog. She became sick. I wanted an obedient dog. She didn't listen to me. All my unresolved issues were played out with her. I was never assertive. I wanted to please her. I waited on her. I worshipped her. I thought you were supposed to give them choices. Do you want to go out and play now? What would you like? What do you need? Let me take care of you.
Holly taught me many things–most of all, how to take control of my life by learning how to take charge of her. I am still in process. It is not finished. But time up, game over. I love her and she is dying. And I cannot do a thing about it. We lie on the floor together on her comforter and I put her head in my lap, massage her shaven abdomen with the deep dark gashes that go from one end to the other, and I tell her how beautiful she is. She sleeps peacefully. I don't sleep at all. And never will again. I thought we would grow old together. But time has fast forwarded her into old age.
She is leaving me
I sleep on the floor curled up in a fetal position, holding a heating pad against her sore arthritic joints. I try to massage away the ache in those long golden legs, the same legs that carried her in freedom and joy across grassy parks, dirt roads, sandy beaches, and open spaces; soft velvet ears lifted as if to propel the whole body and spirit in the poetic motion of life, flying with no limits, no boundaries, no endings, mouth laughing. She is nine. She is leaving me.
Legs that once were strong enough to scamper up dirt mountain trails, leap over rocks, chase squirrels, tennis balls and run victory laps from sheer joy, can no longer walk the hospital corridors. I announce her retirement.
It is four AM. I crawl into my own bed; exhausted and sleep deprived and drop into numbness for about an hour. The sound of panting close to my face jolts me awake. I open my eyes. Holly is staring at me. She managed to get up and drag herself to the edge of my bed, where she used to waken me every morning breathing into my face. She continues to stare. My dog has learned to make eye contact for everything she wants. I am the key to fulfilling all of her needs, whether it's the tennis ball in my pocket, or the dog biscuits on the counter, or the closed door that she wants opened. She stares at me. Today I know what she wants. I gaze into those sad brown eyes, and I have no doubt. She wants me to stop the pain.
I say out loud, "Okay, I will help you."
I will keep my word. No crying, no sympathy. No pity. I must act normal. It is just another day, another trip in the car to see Dr. Farber. I look in the mirror at my blank face, puffy eyes without sleep, without make-up, and put on some cologne. I'll smell normal to her when we go out. It's just another day. She hops on her back legs while I pull up on the large sweatshirt tied around her middle to keep the weight off her front legs. I lift her into the back seat of the car.
At the hospital waiting room I ask the tech who carried her upstairs to set her down on the floor. I don't want her to feel helpless and afraid. I don't want her carried in. Holly hops along greeting the staff as she passes them in the hallway. Laura, a vet-tech glances over her glasses at the golden retriever she knows so well. I tell her quietly "Today is the day." And that's all I say. Right now I am not crying. I don't want Holly to think something terrible is going to happen to her. We are simply here as we have been many times for acupuncture treatment. The staff has been alerted. They stop to stroke her head. I smile and say hello to everyone.
Animals respond to our energy
Laura tells me that she had never seen anyone bring in their pet for euthanasia with the calmness that she witnessed that day. She noticed my smile and cheerful greeting. Laura recalls being stunned. She says women come in clutching their dogs or cats in their arms and crying hysterically. I tell her I could never do that to Holly. Animals respond to our energy. I wasn't brave, just determined that she feel no stress. It's the least I could do for her.
My calm demeanor assures Holly that she is safe, that nothing terrible is going to happen. I am providing normalcy for her, though it is not what I feel.
Inside my body there is seething hot pain.
There will be time to grieve, to scream and pound my chest and pull my hair.
But not now.
Today I am offering my beloved Holly Go Lightly, my final gift of love…a peaceful death, without terror or trauma or hysteria.
It's the least I can do.
This article was originally published at yourpetloss.com and has been published here with permission.
*PIN ME*
Discreet Ashes Pet Tribute Frame
From:
£

73.58
Discreet ashes tribute frame pet memorial gift - available in stained oak or stained pewter. Online orders only.